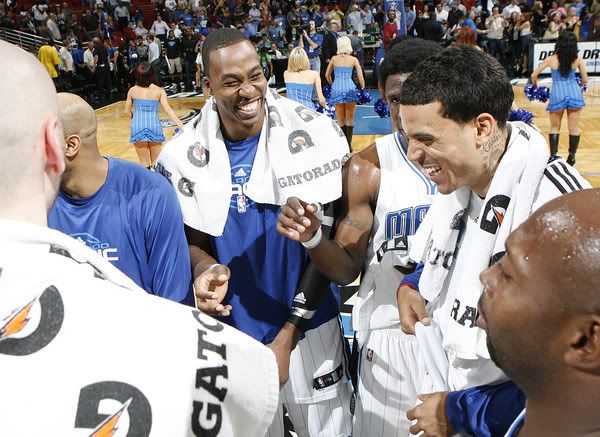 What Magic fans have been waiting for since last June begins Sunday night at Amway Arena, this time with a goal that doesn't seem absurd. They enter the 2010 playoffs with the same 59-23 record as last year's squad, the #2 seed in the East and most importantly, home court advantage should they return to the NBA Finals. It could all be so simple…….
As a fan, I have never felt so confident in my team going into a postseason in any sport and yet, I can't help but be nervous.
This Magic squad is every bit as good as last year's team that made the NBA Finals and may be even better. They shoot just as well, the bench is much deeper (arguably the deepest in the league) and the defense is even better with the addition of Matt Barnes, who brought a much needed nasty streak to this team. They've proven they can beat the NBA's elite anywhere, anytime and last year's Finals defeat, in addition to the continued lack of respect from the national media that's been on display since last year, has sharpened this team's focus and determination.
Also consider this: Atlanta has no match inside for Dwight Howard, which allows him to either dominate or have the Magic play inside-out; Reality show housewives can't believe how beat the Celtics look right now. Most of all, there are several factors with Cleveland that are in play. Lost in all the post-series handshake palaver last year, was the fact that LeBron played at an all-galaxy level in every game and it still wasn't enough. Now, I would never put it past LeBron to say that he can't do it again, but he'll need that Herculean effort once again to put his team in position to win it all.
And for those who remember last year's ECF, it was clearly a case of LeBron and a pack of stiffs. Mo Williams did a better vanishing act during the series than LeBron did after the series; Anderson Varejao was rag dolled in the post by Dwight and repeatedly embarrassed by Rashard Lewis and Hedo Turkoglu at the perimeter. While Danny Ferry was wise to bring in Shaq and Antwan Jamison, neither of these are a certainity. Shaq Diesel is just now working his back into the Cavs' lineup after missing almost 2 months due to a wrist injury and as he once said about Michael Jordan before his 2nd comeback, "39 ain't 29." Jamison is a 2nd tier player and well worth them making that trade since they got Big Z, but as a member of a Wizards team that never advanced further than a second round sweep in 2005,we have yet to see how he'll respond to this kind of spotlight.
Then there's the Lakers.
As my friend Anthony over at Keeping Busy points out, "The lakers have that Yankee vibe about them, where even when they look like garbage you cant count em out", but it feels like the invincibility that they had last year isn't there this time. A lot of that has to do with the injuries they're currently facing with Andrew Bynum (achilles) and Lamar Odom who just doesn't look right. Obviously, the biggest concern is Kobe, who is battling a litany of injuries. Naturally, the first reaction is that he's been playing with injuries for years it seems, but keep in mind, he's dealing with this new round on top of the fact that he's played three full regular seasons, going the distance in the last two postseasons AND the Beijing games. Add on to that that he's been playing at the highest level for 14 years now and you just wonder at what point does it start to breakdown as we've seen with KG over the last year.
Thinking about all that really makes me believe this is the best chance the Magic have ever had to win an NBA Championship. Then, I look at what they're up against in Round 1.
Not that anyone is confusing the Bobcats with the '96 Bulls, but they're a to do some damage. Larry Brown knows how to get the most out of a team and Stephen Jackson is one of the best playoff performers in the game (more on that in a minute).
The main concern is history. The Magic are playing the role of the team who came up just short the year before, dominated the regular season and are now looking for redemption….it doesn't always work out for the best:
The 1994 Seattle Sonics were going to use the inexperienced Denver Nuggets as the launching pad to a championship….a funny thing happened though:
The 2007 Dallas Mavericks looked unstoppable during the regular season on the way to avenging their painful defeat in the NBA Finals the year before and nobody thought much when somehow the Golden State Warriors got into the playoffs. But the Bay Area got hyphy with a legendary upset thanks to some familiar faces in this series:
Fortunately, the Magic have two of the NoCal assailants from that team, but Charlotte has maybe the most important player from that series. When Stephen Jackson is in the postseason, big things happen. In his foray in 2003, he (in the championship-clinching Game 6 against the Nets) and Steve Kerr teamed to hit nearly every big shot for the Spurs 2nd championship. In 2005, he helped a depleted Pacers squad upset the Celtics in the 1st round and pushed the defending champion Pistons to 6 games. As you just saw, the Mavericks never had an answer for him and until this year (with a nearly brand new roster) never recovered.
Combine him with a solid player in Gerald Wallace who has been there since day one in Charlotte and has been eagerly awaiting this moment and the Bobcats have a chance to do huge damage.
I genuinely believe that if the Magic get through the 1st round, that they will win it all. It's the team nicknamed after its owner that scares the hell out of me.